​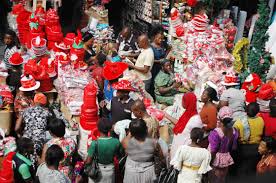 Christmas generally comes with celebration.
But for millions of Nigerians, this Christmas might not be so merry. Like a harsh storm, the current economic recession sweeping through the land seems to have assured most Nigerians of bleak Christmas and New Year celebrations.
Government workers claim they have not collected salary for many months and some complain of half payments. Things appears bleak for most Nigerians. The Christmas bells are not jingling, neither are the lights blinking. Many places that usually had colourful Christmas decorations are looking bland and dreary.
Many shoppers can't believe that prices of commodities have more than tripled, just days to Christmas and the New Year. For them, it was just a taste of things to expect in 2017.
A bag of rice that was sold at N11,000 last year now costs between N18,000 and N23, 000. A bushel of rice, which hitherto cost N150 is now pegged at N300. The traders complained about the soaring prices of food items, adding that they also bought the items at very high prices. They were unhappy, noting that buyers were cutting down on their expenses. They all concurred that this year's celebrations might be low-key.
From all indication, most homes would have to do without live chickens this Christmas and opt for processed ones. Now, chickens that cost N1,500, N2,500 and N4,500 last year are now being sold at N2,500, N5,000 and N6,000, respectively, with the possivility of further increase in price before Christmas and New Year.
Worried by the situation, Sunday Uzor, a Lagos resident, bemoaned the fate of those who had planned to spend the Yuletide with families and friends in the village. He disclosed that his tradition of travelling home this year was shelved due to prevailing economic circumstances.
SHARE YOUR THOUGHTS
Follow @1presh1

Presh Olives is a creative writer, a poet,
a microbiologist and a happy lady.
Your comments mean a lot to me,
please comment below the posts.
And thanks for visiting my blog!

Latest posts by Presholives (see all)