​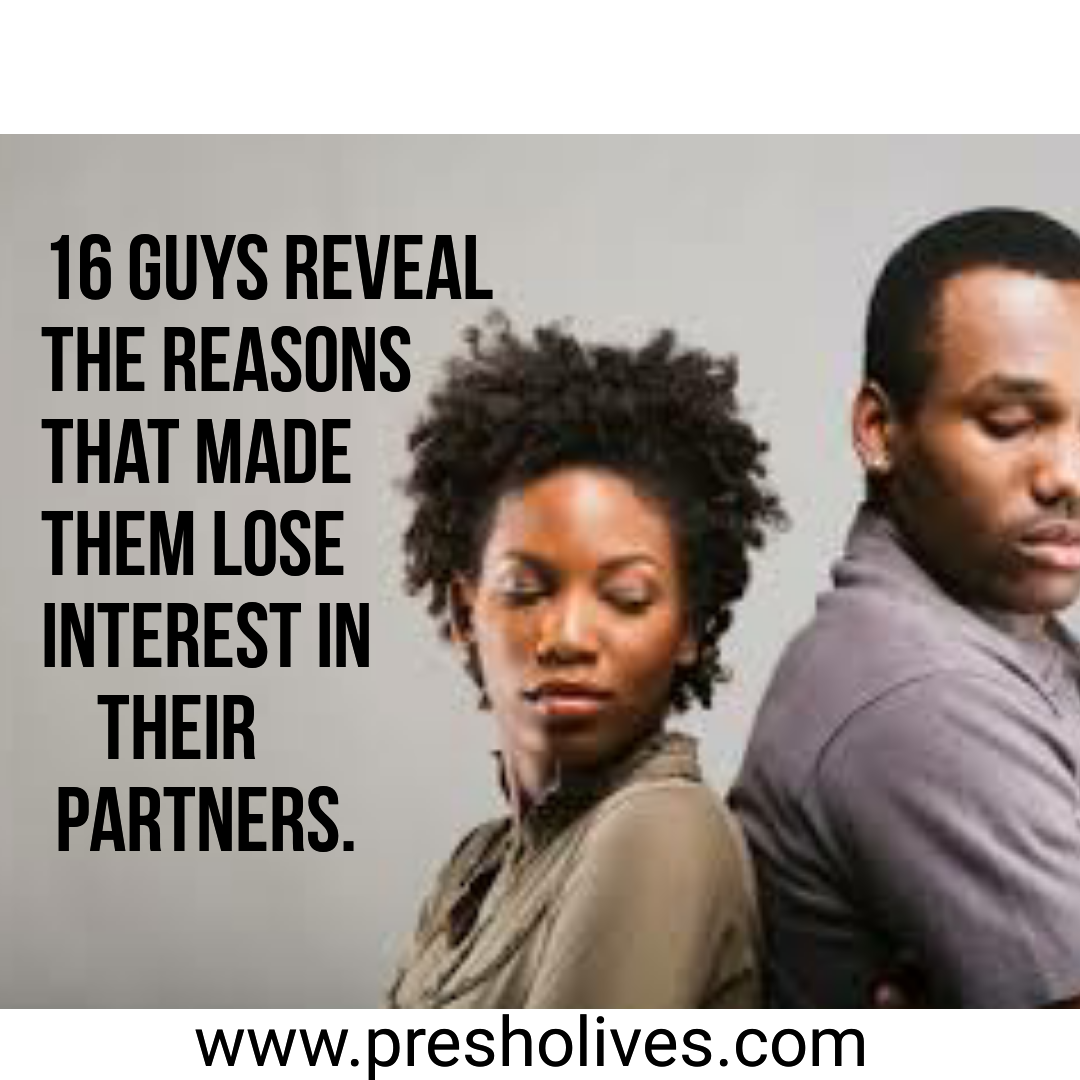 Guys fall in love based on how they feel around a woman. When you start forcing things and probably don't go with the flow, they start withdrawing. The best thing is to be the best version of yourself.
So I've compiled these responses by guys and they revealed one thing that made them lose interest.
I took time and saw that it may really help ladies to understand some reasons why men lose Interest.

(1) "She was every guy's friend, she chats with guys alone on her chat lists. All incoming calls are from her male friends. That was crazy and I couldn't cope with it".– David, 26
(2) "She never talked good about herself, would put herself and other women down constantly. It was like she was the most insecure person and wanted everyone else to be insecure. She was really not worth my time." – Biggie, 28
(3) "She always nags. She complains about everything, the last time we went out she kept complaining about how she hates the sunny day and that we should have gone out at night" – Fisayo, 31
(4) "She's so pretty,but always full of herself. She feels she's miss world or something and she never takes corrections." – Stephen, 25
(5) "She always talks about us getting married and I wasn't just prepared for that." — Michael, 27
(6) "Anytime we're together, she was always on Instagram. It was really off putting." — Kunle, 23
(7) "She cried at any little thing I do and say,she says I hurt her. That was just crazy, I had to go." — Timothy, 24
(8) "She can't cook and she doesn't see it as a bad thing." — Dami, 28
(9) "She needed to be right. Her answer was always correct. There was no other answer." – Josh, 25
(10) "She would've been a 10 if she ever bothered to work out, and that bothered me." — Dave, 25
(11) "She kept saying how smart she was. Kind of in a braggart way, which, in a sense, was attractive, because it's hard to find women who put an emphasis on being intelligent. However, the part that really got me was that she was not smart. At all. It was super depressing, to be honest. On our first date, she said without hesitation that Africa is a country. No, it's really not. It's an entire continent made up of many countries…" – Trey, 26
(12) "She actually said to me, 'I hate reading! It's so boring!' God. Don't be proud of that." – Trey, 29
(13) "I'm 99% certain this girl I went on a date with was Tweeting about our date. I don't talk to her anymore." – Victor, 25
(14) "She was taller than me. Sad! " — Tade, 29
(15) "I went over to her apartment and it was a mess. She is so dirty and doesn't know it." – Richard 28
(16) "I found out the number of people she had slept with,and she was just 22." — Jerry, 27
SHARE YOUR THOUGHTS
Follow @1presh1

Presh Olives is a creative writer, a poet,
a microbiologist and a happy lady.
Your comments mean a lot to me,
please comment below the posts.
And thanks for visiting my blog!

Latest posts by Presholives (see all)